Management Conference REBOOT, 26.01.2021
Venue: Ülemiste City, Öpiku Conference Center, Valukoja 8, Tallinn/ elisastage.ee platform 26th of January 10 AM – 5 PM.
Format: hybrid conference, depending on the situation, the presenters and participants can join either on the spot or virtually.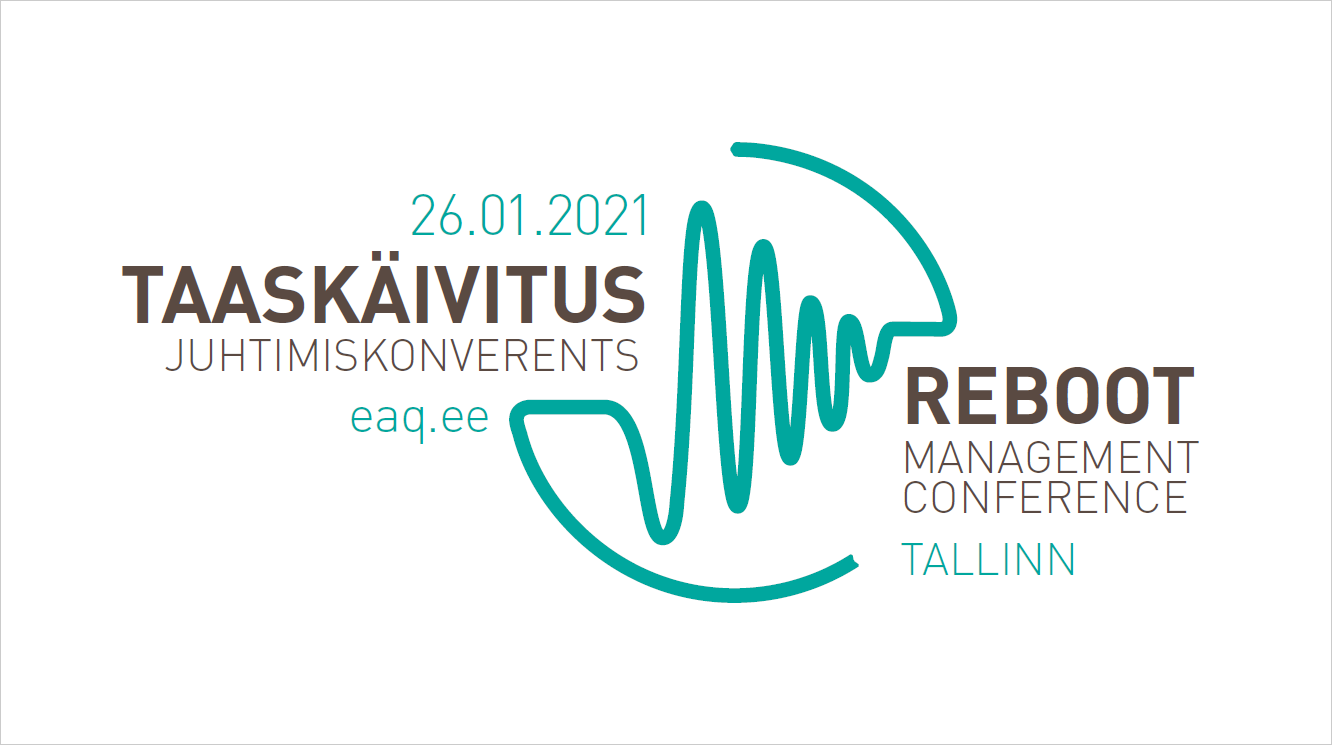 Estonian Association for Quality (EAQ) celebrates its 30th anniversary with annual international management conference REBOOT. Last year has been unpredictable and disrupting at all levels. It has demanded agility and adaptation, noticing threats and opportunities, creating and implementing innovative survival strategies – rebooting several enterprises.
How to cope successfully as a society, organization, individual? How to make transformation and change happen while maintaining high quality and outstanding performance? How best practices in excellence and quality management integrated with innovation and technology can help? How to act in a sustainable and responsible way? What kind of leadership is suitable for the new world? We are looking for answers to these questions during the conference together with presenters, as well as sharing good practices and recognizing the best.
Keynote speaker Robin Lincoln Wood in his presentation Re-boot, Re-generate, Re-naissance pulls all these topics together, followed by a practical Zoom workshop Creating Sustainable Value with True Impact on 27th of January. New EOQ Secretary General Ulf Gustavsson talks about digital transformation of EOQ and the role and meaning of Quality in the changing world. Lauri Tabur discusses about leadership in today's world and how belief in common purpose has become a critical management tool for organizations as well as society. Zsolt Bugarszki talks about reboot opportunities in social and healthcare services through co-creation and hackathons. Sabine Rau-Oberhuber, Co-Founder of Turntoo, talks about circular economy, illustrated by exmaples of circular business models, circular design and material management. Estonian Cell , Nefab and Bepco share their experience in implementing circular economy principles in their business. Leaders of Incap, Elisa and Magnetic MRO share their stories of transforming business in the time if change. Anu Virovere is going to discuss how to be sustainable as a human being.
Programme
---
9:15 – 10:00 Registration and coffee
 10:00 – 12:00 OPENING SESSION
Moderator: Tiia Tammaru
Siret Kegel, Chairman of the Board, Estonian Association for Quality – Opening
Peeter Raudsepp, Chairman of the Board, Enterprise Estonia – Greetings
Uku Varblane, Expert, Foresight Centre at the Estonian Parliament – The Impact of the Virus Crisis on  the Estonian Economy. Scenarios until 2030
Ulf Gustavsson, Secretary General, European Organization for Quality (EOQ) – EOQ  and Quality – Transforming into the digital era
Zsolt Bugarszki , Tallinn University, School of Governance, Law and Society – Reboot in social and healthcare services: Learning points and messages of co-creation experiences in the business world
12:00 – 12:45 Lunch
12:45 – 13:00 RECOGNITION
Quality Deed 2020 & Quality Face 2020
Quality Innovation Award 2020  – in cooperation with Finnish Quality Association (Laatukeskus)
13:00 – 14:30 I PARALLEL SESSION –  ENTERPRISES IN THE WHEEL OF CHANGE 
Moderator: Baldur Kubo
Sami Seppänen , CEO, Elisa Eesti AS – EFQM Model as a useful management tool in the time of change and transformation – Elisa's experience
Otto Pukk , CEO, Incap Group –  Leadership in the crises period – Incap's experience 
Jan Kotka , COO, Magnetic MRO  – Life after COVID-19 – no way back …

13:00 – 14:30 II PARALLEL SESSION – CIRCULAR ECONOMY
The session is run in cooperation with Estonian Association of Environmental Management 
Moderator: Harri Moora
Sabine Rau-Oberhuber,  Co-Founder, Turntoo – Material Matters, essential elements of a circular economy
Kersti Lužkov,  Environmental and Quality Manager , AS Estonian Cell – Resource efficiency and innovation  – example of AS Estonian Cell
Jaanus Tamm, Senior Product Designer, Nefab Packaging OÜ – Implementing the principles of circular economy in product and service design – joy and concerns 
14:30 – 15:00 Energy pause
15:00 – 16:45 CLOSING SESSION
Moderator: Marko Rillo
Lauri Tabur, CEO, SmartGrow OÜ-  Leadership – matter of belief 
Anu Virovere, PhD, Psychologist and a Communication Coach – How to be sustainable as a person?
Dr Robin Lincoln Wood – Keynote speech: Re-boot, Re-generate, Re-naissance
16:45 – 17:00 Summary and closing
The target group of the conference are CEOs, quality managers, process managers, development managers, risk managers, environmental managers, HR managers, CSR managers, auditors, assessors and all others, who are responsible or involved in quality and improvement activities in different roles.
Presentations are in Estonian and English with simultaneous interpretation.
On the 27th of January there is also Robin Lincoln Wood's workshop:
Creating Sustainable Value with True Impact: A Workshop on Redefining; Redesigning & Delivering – "The Good Life"
The event is planned in hybrid format, where both presenters as well as participants can attend the conference virtually or if possible, on the site.
Registration and prices
---
PRICE
Conference
26.01.2021
Workshop
27.01.
Conference + Workshop
Early Bird price for member until 12.01.2021*
169
199
329
Early Bird price for non-member until 12.01.2021
219
249
399
Member price since 13.01.2021*
249
289
499
Non-member price since 13.01.2021
329
369
539
Student's ** Early Bird price until 12.01.2021

Student's ** price since 13.01.2021

109

139

–

–

–

–
20% VAT is added to the prices
* member price applies for the members of Estonian Association for Quality (EAQ) and partners of EAQ
** offer for the students of Estonian educational institutions
PAYMENT: according to issued INVOICE.
REGISTRATION: https://elisastage.ee/landing/bc/N6Z2lROmwH/4eGC2uwvI6i
CANCELLATION: Please announce cancellation in writing, sending an e-mail to the address konverents@eaq.ee at least 10 office days before the event. In this case the received fee will be returned or the invoice will be annulled. In case of cancellation of 5 office  days before the event 50% of the fee will be returned. No refund later.
Contact: konverents@eaq.ee, + 372 5695 6005
Location, parking, public transport
---
Conference takes place in Ülemiste City, Öpiku conference center Valukoja 8 "Kosmos" room.
Parking: real-time parking information is available at: https://ulemistecity.ee/en/parking
The closest free parking space is located in Ülemiste Center, about 400m from the conference center.
Public Transport
Buses: 7, 15, 45, 49, 65 (arriving at Lõõtsa or Valukoja)
Tram: 4 (arriving at Ülemiste Linnak)
From Nordic Hotel Forum to Conference Venue Öpiku: Take bus no 15 from Hobujaama to Lõõtsa, approximately 40 minutes or take tram no 4 from Hobujaama to Ülemiste City.
Find more info about bus/tram schedules here:  http://www.peatus.ee/#city/eng
Conference supporters
---


Asko Närep
2021-01-08T15:47:54+02:00
Zsolt Bugarszki Tallinn University, School of Governance, Law and Society. [...]