Management Conference "DATA TALK"
Venue: Ülemiste City, Öpiku Conference Center, Valukoja 8, Tallinn, and Elisa Stage
25th of January, 9:30 – 17:50
Format: hybrid conference.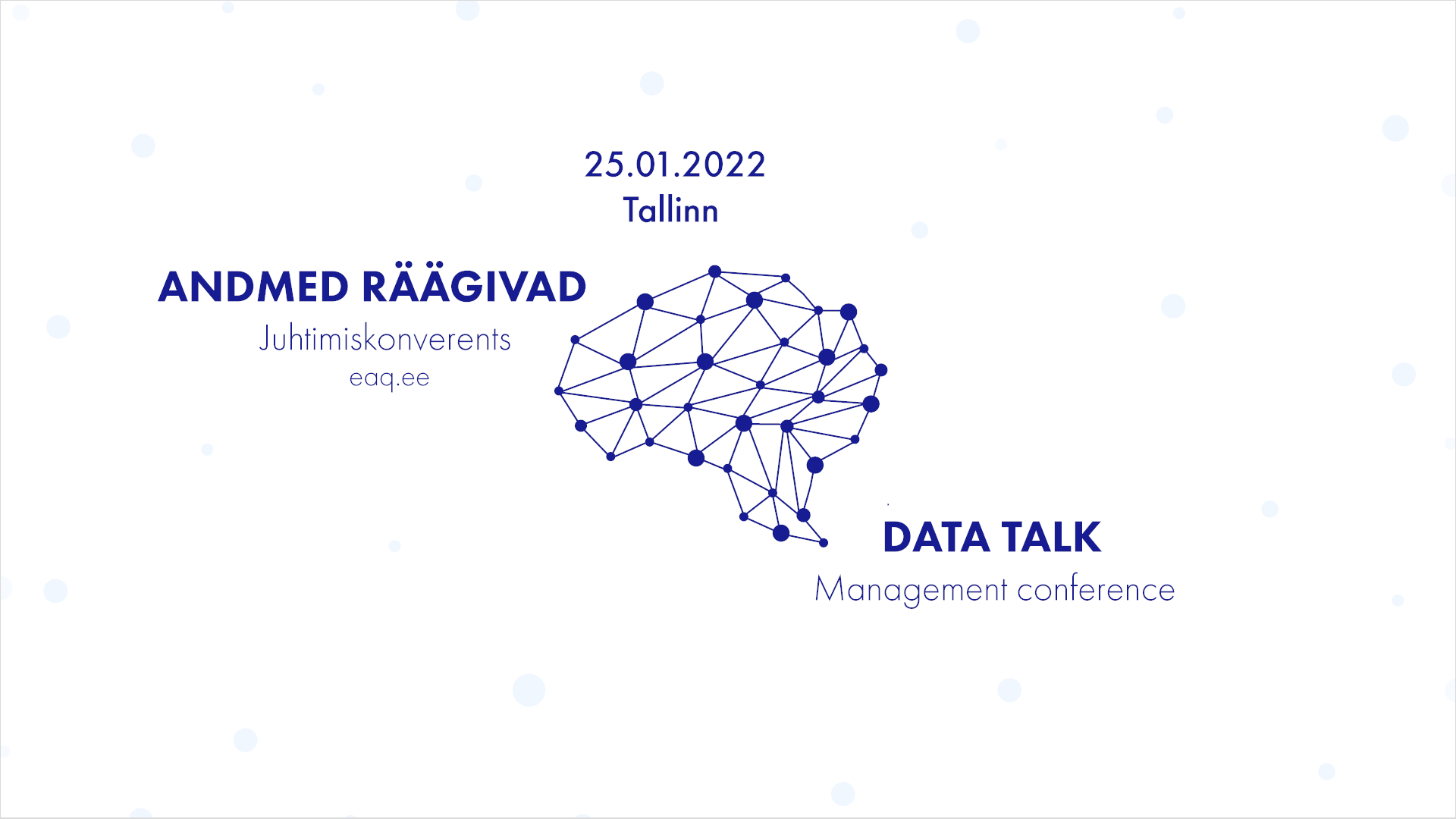 "Without data, you're just another person with an opinion." W. Edwards Deming.
The theme of EAQ (Estonian Association for Quality) Management Conference is DATA TALK. Data and evidence based decision-making is one of the key principles of quality management, which is gaining more and more importance and wider meaning in today's world. At the conferece we will talk about measurement and assessment, using the knowledge gained from data analysis for improving processes, quality of management  and  making better decisions.
In parallel sessions we will talk about using data and measuring quality in companies, educational institutions and public sector. A session dedicated to the measurement of sustainability is run in co-operation with Estonian Association of Environmental Management. In he closing session we will discuss the possibilities of measuring quality of life. 
We also recognize the Estonian finalists of international competition Quality Innovation Award 2021, as well as the nominents and winners of Quality Deed 2021 and Quality Face 2021 and Walter Masing Award.
The event is planned in hybrid format, where both presenters as well as participants can attend the conference virtually or if possible, on the site.
Presentations are in English and Estonian with simultaneous interpretation

Programme
---
9:00 – 9:30 Registration and morning coffee
 9:30 – 11:15 OPENING SESSION
Siret Kegel, Chairman of the Board, Estonian Association for Quality – Opening
Andres Sutt, Minister of Entrepreneurship and Information Technology – Greetings
          Mats Deleryd, SVP Corporate Quality, Safety & Security, FREYR (Sweden) – Quality 5.0 – Sustainable Success
Seref Sagiroglu, Director, AI and Big Data Center of Gazi University (Turkey) – Security and Privacy Issues in Big Data for Smart City Systems
Ülar Allas, Consultant, Institute of Computer Science, University of Tartu – Supercomputers are Computing Us a Better Future
11:15 – 11:40 RECOGNITIONS
Quality Deed 2021 & Quality Face 2021
Walter Masing Award – in cooperation with German Quality Society (DGQ)
Quality Innovation Award 2021 – in cooperation with Finnish Quality Society (Laatukeskus)
11:40 – 12:00 Energy Pause
12:00 – 13:30 I PARALLEL SESSION – HOW TO MEASURE COMPANY PERFORMANCE?
Kadi Pärnits, Chairman of the Board, AS Mainor – Measuring the Success of Talent Centered Future City – Ülemiste City radar
Kristian Allikmaa, Partner, Data Architect, Datafruit OÜ – Improving the Quality of Business Processes with the Help of Technology
Katrin Väärtnõu, Quality Manager, Stoneridge Electronics Ltd – Measuring Quality at Stoneridge Electronics AS

12:00 – 13:30 II PARALLEL SESSION – HOW TO MEASURE QUALITY IN EDUCATION? (In Estonian with no interpretation)
Session moderator – Tiia Tammaru
Heli Mattisen, Director, Estonian Quality Agency for Higher and Vocational Education – Data Based Assessment of the Quality of Educational Institutions
Tatjana Ait, Director, Jõhvi Gymnasium – Evaluation System of Students and Teachers in High School
Kadi Kreis, Director, Tartu Art School – How to Assess a Creative Process?
13:30 – 14:20 Lunch
14:20 – 15:50 III PARALLEL SESSION – HOW TO MEASURE PUBLIC SECTOR QUALITY?
Ott Velsberg, Government Chief Data Officer of Estonia, Estonian Ministry of Economic Affairs and Communication  – State of Art and Future Trends of Open Data in Estonia
Tuulikki  Sillajõe, Main Expert on Data Management in the Youth Field, Estonian Education and Youth Board (Harno) – Youth Monitoring System in Estonia
Triin Kraavi, Quality Manager, Eesti Töötukassa (Estonian Unemployment Insurance Fund) – Töötukassa's Journey towards Excellence
14:20 – 15:50 IV PARALLEL SESSION – HOW TO MEASURE SUSTAINABILITY? (In Estonian with no interpretation)
Session is organized in cooperation with Estonian Association for Environmental Management (EKJA)
Session moderator – Siret Kegel
Harri Moora, Program Director and Senior Expert, Stockholm Environmental Institute (SEI) Tallinn Centre – Measures of Sustainable Operation – What and How?
Terje Luure, Environmental Manager, Alexela Group OÜ – Alexela – Estonian Green Innovator 
Mihkel Tamm, Sustainability Specialist, LHV Bank – Footprint Measurement in LHV and Expectations to Estonian Companies
15:50 – 16:10 Energy pause
16:10 – 17:40 CLOSING SESSION
Kristel Leisalu, Head of Engineering, Ecosystem, Pipedrive – How Does the Pipedrive Career Framework Help Engineers  to Grow and Managers to Decide?

Geir Moen, Academic Director, Ny Vekst og Kompetanse, (Norway) – Measuring  Quality of Life
Marko Lepik, EI Coach, SIY Certified Facilitator, Genos EI Practitioner, EQversity.com – How to Protect Your Ability to Focus in the Era of Info Pollution
17:40 – 17:50 Summary and closing

Registration and fees
---
Conference 2022

 Seminar 2022

   
 

Member price*

279

75

Non-member price

349

 

75

Student**

129

50
20% VAT is added to the prices
*member price applies for the members of Estonian Association for Quality (EAQ) and partners of EAQ
** offer for the students of Estonian educational institutions
REGISTRATION: Management Conference "Data Talk" in Jotform
CANCELLATION: Please announce cancellation in writing, sending an e-mail to the address konverents@eaq.ee at least 10 office days before the event. In this case the received fee will be returned or the invoice will be annulled. In case of cancellation of 5 office  days before the event 50% of the fee will be returned. No refund later.
Contact: konverents@eaq.ee, + 372 5695 6005
Location, parking, public transport
---
Conference takes place in Ülemiste City, Öpiku conference center Valukoja 8 "Kosmos" room.
Parking: real-time parking information is available at: https://ulemistecity.ee/en/parking
The closest free parking space is located in Ülemiste Center, about 400m from the conference center.
Public Transport
Buses: 7, 15, 45, 49, 65 (arriving at Lõõtsa or Valukoja)
Tram: 4 (arriving at Ülemiste Linnak)
From Nordic Hotel Forum to Conference Venue Öpiku: Take bus no 15 from Hobujaama to Lõõtsa, approximately 40 minutes or take tram no 4 from Hobujaama to Ülemiste City.
Find more info about bus/tram schedules here:  http://www.peatus.ee/#city/eng