Petro Kalyta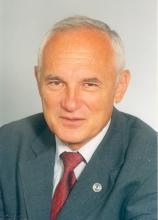 ABOUT THE PRESENTATION
Business Marathon "Ascension to the Top of European Excellence": Experience and Results
One of the key objectives of any country is engaging in the movement of business excellence and quality of their companies and organizations. This paper describes the experience of promoting of such movement for organizations and engaging companies from the region of the Central and Eastern Europe (CEE). Concepts of excellence and the EFQM Excellence Model are accepted as a methodological framework of excellence. The paper analyses experience of the National Quality Award that has been held in Ukraine for 17 years, as well as the Quality Tournament of the CEE where the best companies have taken part for eight years - winners of National Quality Awards from Azerbaijan, Belarus, Hungary, Kazakhstan, Lithuania, Romania, Russia, Tajikistan and Ukraine. It is shown that the Business Marathon helped a number of companies from Hungary, Russia and Ukraine in their aspiration for excellence and becoming Finalist of the EFQM Excellence Award; at the same time one Russian company (Stavropol State Agrarian University) has already reached the level of Prize Winner of this Award. It was noted that Ukrainian and Russian companies were the first organizations in their countries and the CIS region which have achieved these results and became, in fact, a role models for companies from the CIS and CEE. The paper considers both organizational and methodological aspects of the preparation and conduct of the National Award and International Tournament. Special attention is paid to the "Stairs of Business Excellence" proposed by Ukrainian specialists and which already for many years help companies in their continuous improvement.
ABOUT THE SPEAKER
Petro Kalyta, President of Ukrainian Association for Quality, Vice-President of Ukrainian League of Industrialists and Entrepreneurs, President of Quality Leaders Clubs of Ukraine and the Central and Eastern European Countries, Honorary President of International Guild of Quality professionals, member of the EOQ General Assembly, Director of Branch Quality Center "PRIROST", academician of Ukrainian Academy of Sciences, Russian Academy of Quality Problems, International Academy of Standardization.