Book presentation on June 17th at the end of pre-congress
29.05.2013
"Higher Education at a Crossroad: the Case of Estonia" – a collection of articles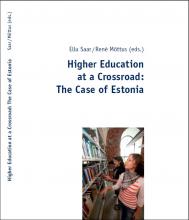 The book "Higher Education at a Crossroad: the Case of Estonia" is a collection of articles based on Estonian scientists' recent researches on the field of higher education. The editors of the book are Estonian social scientist prof. Ellu Saar and Senior Researcher Rene Mõttus.
Dr. Merike Darmody (Research Officer, Department of Social Research, the Economic and Social Research Institute, Ireland; Assistant Professor, Department of Sociology, Trinity College, Ireland) gives a short intruduction of the book: This volume provides the reader with a useful understanding of some of the issues confronting the Estonian higher education sector today, as well as providing an insight into how institutional processes and practices shape the lives of students within these institutions and beyond.
It covers a wide range of issues, including the development of higher education policy, access to higher education, changes in the profile of higher education students, the experiences of students in higher education institutions and their subsequent transition to the labour market. It also addresses key questions about quality improvement and inequity in higher education.