Management Conference 2019 – QUALITY 4.0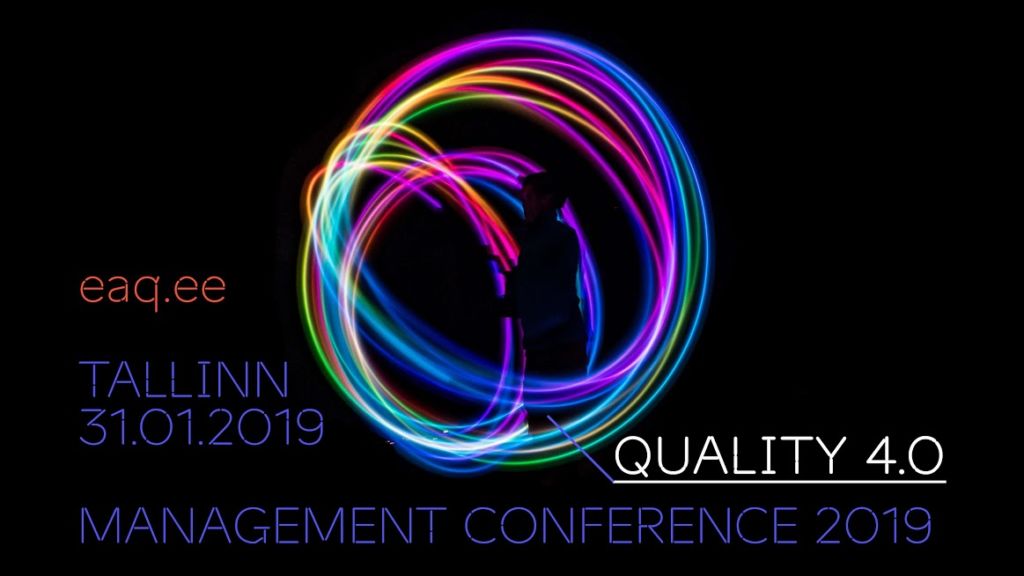 Venue:  Ülemiste City Öpik2, Valukoja 8, Tallinn, http://opiku.ee/index-en.html
The overall topic is the Future of Quality – Quality 4.0 and beyond. The focus is on the challenges and opportunities of Quality and Excellence in the new digital reality. During the conference we try to give an overview of the major different Quality&Excellence approaches (models, standards, methods) and their relevance and opportunities in the 'new reality' of digitalization, big data, AI, IOT, VUCA environment – all the big topics of these days.
PROGRAMME
*Simultaneous interpretation is available
9:30 – 10:00 Registration and coffee
10:00 – 12:00 Plenary Session
Tiia Tammaru, Chairman of the Board, Estonian Association for Quality – Opening and greetings
Torolf Paulshus, President of EOQ (European Organization for Quality) – EOQ Strategy Process and Highlights
Signe Ratso, European Commission, DG Research & Innovation DDG3, Deputy Director-General – Role of the Public and Private Sector Innovation in Achieving Quality 4.0
Marwan Al Zaabi, Sheikh Khalifa Government Excellence Programme Department (UAE), Director – Government Excellence Model: A Catalyst for Achieving the Ambitious Vision of the United Arab Emirates
Paulo Sampaio, University of Minho, Professor (Portugal) – The Profile of the Quality Professional of the Present (not Future)
12:00 – 13:00 Lunch
13:00 – 15:00 Session II – Quality from Different Aspects and Areas
Tiia Tammaru, Chairman of the Board, Estonian Association for Quality; TalTech, Research Scientist – Organizational Excellence in the Changing World
Risto Leisti, Caverion Industrial Solutions, Oy Botnia Mill Service (EFQM R4E 5 Stars, Finnish Quality Award winner 2016), Managing Director – IoTFlex Maintenance Concept; Better Production Efficiency and More Profit for Customers
Terje Ennomäe, Feelingstream OÜ, Founder and CEO – How to Use Technology for Service Quality Management?
Martin Seppälä, Technopolis Ülemiste, Member of the Board – Leading for Quality in the Consulting/Investment Sector – How Do You Drive Quality with Educated, Smart People When Money Doesn't Matter?
Kristjan Rotenberg, AS Harju Elekter Elektrotehnika, Plant Manager – How to Sustain Quality of Life in Changing World?
15:00 – 15:20 Energy Break
15:20 – 16:00 Dr. A. Blanton Godfrey, North Carolina University Wilson College, Joseph D. Moore Distinguished University professor – Dynamic Interactive Data Visualization and Utilization
16:00 – 17:00 Quality and Innovation
Quality Managers Professional Certificates (level 7) recognition
Quality Deed 2018 and Quality Face 2018 recognition
Quality Innovation Award 2018 finalists and winners –presentations and recognition
17:00 – 19:00 Reception
Venue: Nordic Hotel Forum, https://www.nordichotels.eu/en/
This workshop is about Impact. Impact can be simply defined as the value of the problem we attempt to solve times the probability we actually solve the problem times the probability the solution actually gets implemented.
In the first part of the workshop we discuss the part on which quality professionals, data scientists and analytical researchers usually focus, the problem solving. In addition to the traditional methods often falling under the umbrella of Lean Six Sigma, we shall review and perhaps introduce newer methods of statistical graphics and dynamic interactive data visualization and utilization. These methods are critical in solving today's problems involving massive data sets and challenges of artificial intelligence and machine learning in manufacturing and service companies.
The second part of the workshop will focus on the less studied but far harder part – the implementation of the solution to actually achieve results, the Impact of our work. Often mistakenly called resistance to change, the reasons for solutions not being implemented or partially implemented are complex. New work, now falling under the name Implementation Science is giving us new insights and tools for making positive change happen.
Accommodation booking
The conference partner is Nordic Hotel Forum. Nordic Hotel Forum, the superior four-star business and conference hotel, welcomes you in the heart of Tallinn. With prominent location on the edge of the Tallinn Old Town, UNESCO World Heritage Site, guests at Nordic Hotel Forum have a choice of 267 rooms: all spacious and elegantly furnished, with every detail carefully considered. Each room contains air-conditioning, an LCD TV, Wi-Fi, a safe deposit box, a minibar, tea and coffee making facilities, iron and ironing board and a hairdryer. If necessary, we have rooms suitable for disabled people and people with allergies; Wi-Fi all over the hotel. By taxi, Lennart Meri Tallinn Airport is just 10 minutes away, while the port is only 5 minutes away.
A special accommodation rate at Nordic Hotel Forum applies for Quality Conference delegates.
Standard single room 94 EUR/ night
Standard twin/double room 99 EUR/ night
Rates include buffet breakfast, WiFi and VAT.

Bookings can be made by e-mail forum@nordichotels.eu or over the phone +372 6222 999 (Promotional code: Quality Conference).
Early reservation is recommended since we operate on a "first come, first served basis".