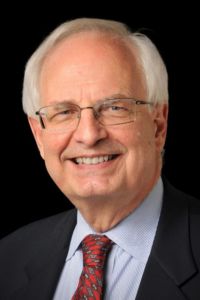 Dr. A. Blanton Godfrey is Joseph D. Moore Distinguished University Professor in North Carolina State University's Wilson College of Textiles where he served from July 2000 to June 2014 as dean of the college. The college is a research leader in textile manufacturing, fiber and polymer science, textile technology management, performance and protective textiles, medical textiles and biotextiles, high-strength fabrics, nonwoven materials, and thermal, chemical and bio protection and comfort.  Dr. Godfrey holds an MS and Ph.D. in Statistics from Florida State University and a BS in Physics from Virginia Tech. He served in the United States Army in Germany, Colorado and Vietnam from 1963-1968.
Before becoming Dean at NC State University, Blanton was Chairman and CEO of Juran Institute, Inc. from 1987 to July 2000.  From 1973 to 1987 he was at AT&T Bell Laboratories, where he became Head of the Quality Theory & Technology Department.  He also was an Adjunct Professor in the Industrial Engineering and Operations Research Department, Fu Foundation School of Engineering and Applied Science, at Columbia University where he taught graduate courses in advanced quality methods and management of quality for nineteen years.  He also taught part of summer session classes at Harvard University in clinical quality for four years as a visiting lecturer.
In addition to his many years of quality leadership in manufacturing at AT&T and as a consultant, Blan has been heavily involved in healthcare quality for the past thirty years. His involvement in health care began in 1987 when he co-founded with Dr. Donald M. Berwick the National Demonstration Project for Quality Improvement in Health Care.  This project evolve to become the Institute for Healthcare Improvement, a remarkable not-for-profit institute providing support to healthcare organizations in over 94 countries. He served on the Board of Directors for IHI for eleven years and was chair of the board for three years.  He still serves on two IHI board committees. He also serves on the board of WakeMed Health and Hospitals, the largest healthcare provider in the city where he lives.
Blan has worked in over 60 countries, published over 250 articles and book chapters and co-authored or co-edited seven books including Modern Methods for Quality Control and Improvement and Curing Health Care: New Strategies for Quality Improvement. Blan co-edited with Joseph M. Juran the fifth edition of Juran's Quality Handbook published in 1999.
From 1987 to 1990, Blan contributed to the creation of the Malcolm Baldrige National Quality Award and served as a judge for the first three years of the award. Blan is a Fellow of the American Statistical Association; the American Society for Quality; the Royal Society for the encouragement of Arts, Manufacturers and Commerce (RSA); and the World Academy of Productivity Sciences.  He is also an elected member of Sigma Xi and the New York Academy of Sciences, and is an academician of the International Academy for Quality.  He served as the Chair of the North Carolina Board of Science, Technology and Innovation from 2006 to 2017 and serves on several other boards.
In 1991 the American Society for Quality presented Blan the Edwards Medal for his outstanding contributions to the science and practice of quality management and in 1993 was designated "Graduate of Distinction" by the Florida State University College of Arts and Sciences.  In 2005 Blan was selected by the American Statistical Association as the Deming Lecturer.  In 2008 Blan received the C. Jackson Grayson Distinguished Quality Pioneer Medal in recognition for innovation in the promotion of quality for all mankind and for "his leadership in blending quality and innovation in product development, strategy and higher education." In 2010 Blan received the American Society for Quality's Distinguished Service Medal and was also designated Miembro Honorario of La Fundacion Empresaria para la Calida y la Excelencia in Argentina. In 2011 Blan was honored by the American Statistical Association Quality and Productivity Research Conference for his contributions over the years to the science of quality management and practice.  The North Carolina Hospital Association recognized Blan's "outstanding service to the healthcare field" with their Meritorious Service Award in July 2011. In 2016, he received the William G. Hunter Award from the Statistics Division of the American Society for Quality "as a visionary leader in applied statistics and quality who has made impactful contributions in a wide array of application areas that include new technology development, manufacturing, product reliability and quality, and healthcare quality." In 2017 Blan received the Feigenbaum Lifetime Achievement Medal from the Walter L. Hurd Foundation and
was also inducted into the Virginia Tech College of Science Hall of Distinction. In 2019, Blan will receive the American Society for Quality LSS Forum's Six Sigma Achievement Award.