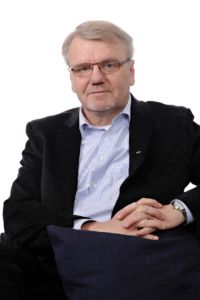 Risto Leisti is Director of Service Management and Development in Caverion Industrial Solutions Division since 1st of January 2017. In this function his key tasks are strategic planning and development of maintenance models and concepts in process industry.
Prior to his current position he worked as Managing Director of Botnia Mill Services for 10 years and received in 2016 the Finnish Quality Award for the Company. Quality management and continuous improvement have been a key part of management and development in his long career in process industry maintenance and projects.
Until 2005, he worked at Stora Enso at different mills responsible for the management and development of mill services and maintenance and the management of investment projects.
He graduated in 1981 as a Master of Science in Technology, M.Sc. from Lappeenranta University of Technology
Ettekanne: IoTFlex ennetava hoolduse süsteem: parem tootmise tõhusus ja rohkem tulu klientidele
https://www.caverion.com/service-areas/technical-maintenance/iotflex-for-industries
Caverion's IoTFlex service concept takes industrial productivity and preventive maintenance to the next level. IoTFlex uses smart sensors to measure the actual condition of machines and employs real-time analytics to predict the occurrence of possible faults.
The analytics based on modern sensor technology enables:
Detecting critical failures in the production line at the first signs
Addressing malfunctions before downtime occurs
Improving production efficiency
The IoTFlex service concept is available for a range of industries and plants of all sizes.
The system developed by Caverion has a new kind of failure prediction method that enables the easy adjustment of the failure prediction based on the running method of the machine. Another new feature is the easy adaptation of the system to a range of measurement needs, such as air particle measurements, vibrations, trace heating, and condition measurements and oil analyses for electric motors.